❤️ Corporate Events

❤️ Private Events

❤️ Festivals

❤️ Catering
 
WHAT OUR CUSTOMERS ARE SAYING
⭐️  ⭐️  ⭐️  ⭐️  ⭐️
"Mike and Jenny,
I wanted to express how much I appreciate your work, time, and clearing your calendar for us. Every part of it was so delicious! May God richly bless you for all you do to be a blessing in our church and community."
K. Scoggins, First Baptist Church, Hendersonville, NC 
⭐️  ⭐️  ⭐️  ⭐️  ⭐️
"These lovely folks were highly recommended to us for an ongoing "Tasty Tuesday" event that we hosted for our Associates in September. It was such a success that we made the decision to continue the festivities into October and to take Mike and Jenny Breedlove from Breedlove's / MJC Concessions with us!

They are a lovely couple and provided us with very friendly, reliable, and professional service. They have a terrific menu and one of their specialties is a Hot Donut Sundae with their very own homemade donuts and ice cream! It was not only lots of fun but delicious!!! Who says you can't eat dessert first? Oh, you must try their meatball sub. It, in particular, was met with RAVE reviews. They have recently expanded their offerings and we are looking forward to all of it! There are lots to love about these people and this food truck!!! We will use them time and time again!!!!"
Professionals Realty, Keller Williams
OUR MENU
STAND ALONES
Tortilla chips covered with nacho cheese.
Add chili and jalapenos for $1 more.
Pulled pork, fresh jalapenos, drizzled in queso, and bbq sauce served on a bed of tortilla chips.
Hot and delicious slice of pepperoni pizza.
Make it a Meatlovers for $1 more.
Tater tots topped with chili, cheese, and jalapenos.
Generous helping of fries cooked to a golden brown.
Loaded Basket of Fries - $8
Our wonder fries topped with your choice of chili or pulled pork plus cheese & jalapenos.
SALADS
Served with your choice of dressing. Ranch, Blue Cheese, 1000 Island, Rasberry Vinaigrette.
Fresh chopped lettuce, tomatoes, onions, cumbers, green peppers, black olives, and three shredded cheeses.
Grilled Chicken Salad - $8
House salad topped with grilled chicken.
Your choice of tuna or grilled chicken mixed in chopped lettuce with tomatoes, onions, cucumbers, black olives, green peppers, and three cheeses. Served in a warmed pita pocket.
DOGS AND SANDWICHES
Cody's Hot Dogs - $3 or 2 for $5
All beef hot dogs includes your choice 3 "Free" toppings and up to 3 "Premium" toppings.

Free Toppings: Ketchup, Mustard, & Mayo.
Premium Toppings: Chili, Slaw, Kraut, Onions, Relish, Cheese, and jalapenos.
Johnsonville product served with brown or yellow mustard and warmed kraut on a park brat roll.
Italian meatballs in marina sauce with grated parmesan cheese and shredded mozzarella cheese.
Add 2 items below to any sandwich.
Drink, Chips or your choice of a side.
OUR FAMOUS TRAYS
BBQ Pulled Pork Sandwich Tray - $9
Succulent pulled pork sandwich served with a side of slaw, BBQ sauce, pickle spear, and chips.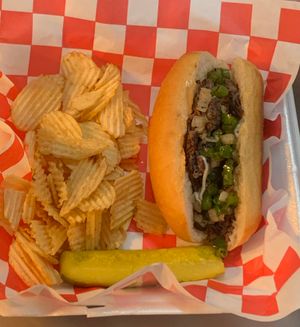 Philly Cheese Steak Tray - $12
Shaved ribeye, mushrooms, grilled onions, White American & Swiss Cheese on a fresh hoagie bun. Served with chips and pickle spear.
Mike's All The Way Burger Tray - $10
All beef patty, cheddar cheese, onion, lettuce, tomato, pickles, and your choice of condiments. Served with chips and a side of slaw.
Pulled Pork Taco Tray - $9
2 soft shell taco w/ cole slaw and drizzled with BBQ sauce. Served with chips and pickle spear.
Philly Cheese Steak Taco Tray
Philly steak, swiss cheese, and onions, drizzled in BBQ sauce. Served with chips and pickle spear.
DESSERTS
One scoop of our homemade ice cream on a cone or in a cup. Add a second scoop for $1 more.
Our homemade ice cream with your choice of toppings plus whipped cream and cherry.

Toppings: Chocolate, Caramel, Butterscotch, and Strawberry.
16 oz. Topped with whipped cream and cherry.
DRINKS AND SIDES
Coke • Diet Coke • Sprite • Dr. Pepper • Mt. Dew • Water
Lay's Plain • Lays BBQ • Doritos Nacho Cheese
4 oz. size
Cole Slaw • Potato Salad • Baked Beans
PDF
DOWNLOAD A COPY OF OUR FULL MENU
Contact us to make a reservation FOR YOUR NEXT EVENT!
Send us a message and we'll get back to you as soon as possible.